Ming Wong
14 Jan 2022–31 Dec 2023
Tanjong Pagar Distripark
Container Bay, Rear Entrance of SAM
Public outdoor work. Accessible from 4–7pm daily.
Daily activations from 7.15pm–7.45pm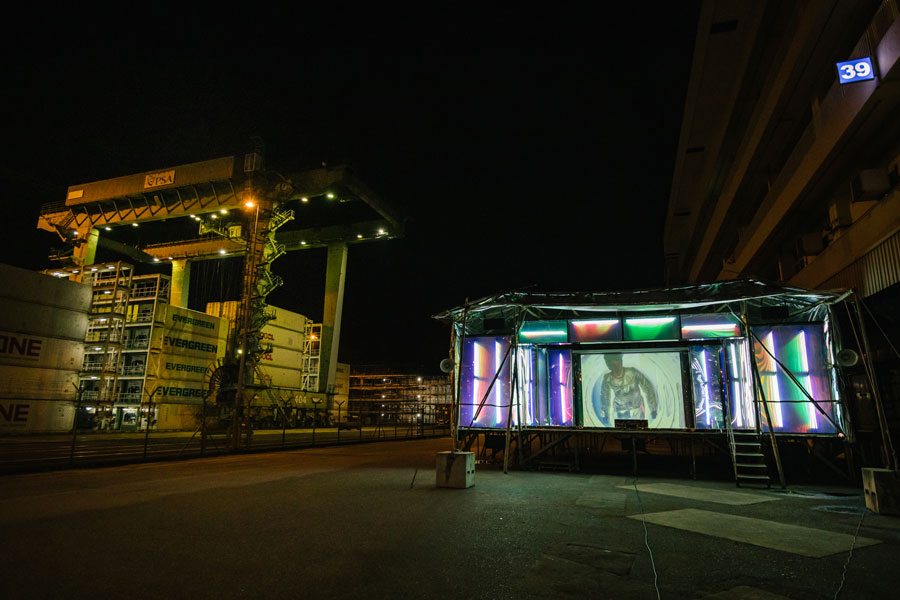 A Wayang Spaceship has landed on our shores. Alongside the industrial, technological and ecological crises that have taken place throughout time, it also stands witness to our place in the cosmos. During the day, the Wayang Spaceship is seemingly dormant, its reflective surfaces mirroring the bustling traffic around the container seaport. Its own inactivity is interrupted by the occasional stray radio transmission relayed from another dimension.
At dusk, the Wayang Spaceship reclaims its former role as a travelling Chinese theatre, illuminating the past, present and future with an operatic symphony of light, sound and image, as though it is livestreamed from the memory of a scholar-warrior, a time travelling consciousness who moves freely between the past, present, and future. Each day, after the Singapore Art Museum closes, the Wayang Spaceship activates with light, sound and film, allowing the public to commune with this solitary figure of Chinese opera.
The Wayang Spaceship will evolve over a two-year period featuring a range of performances and access programmes. It is commissioned by The Everyday Museum, a public art initiative by Singapore Art Museum, and made possible with the generous support of Sun Venture.
Supported by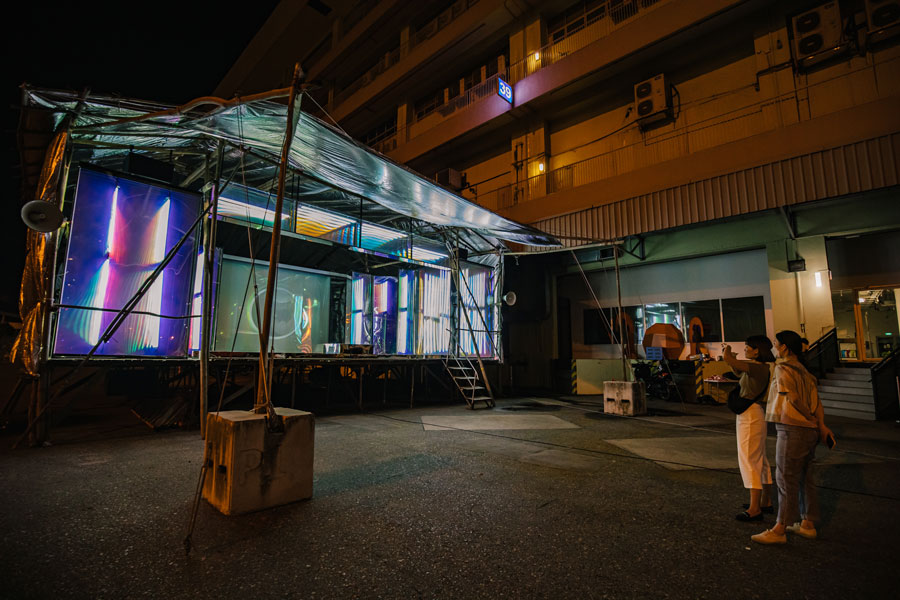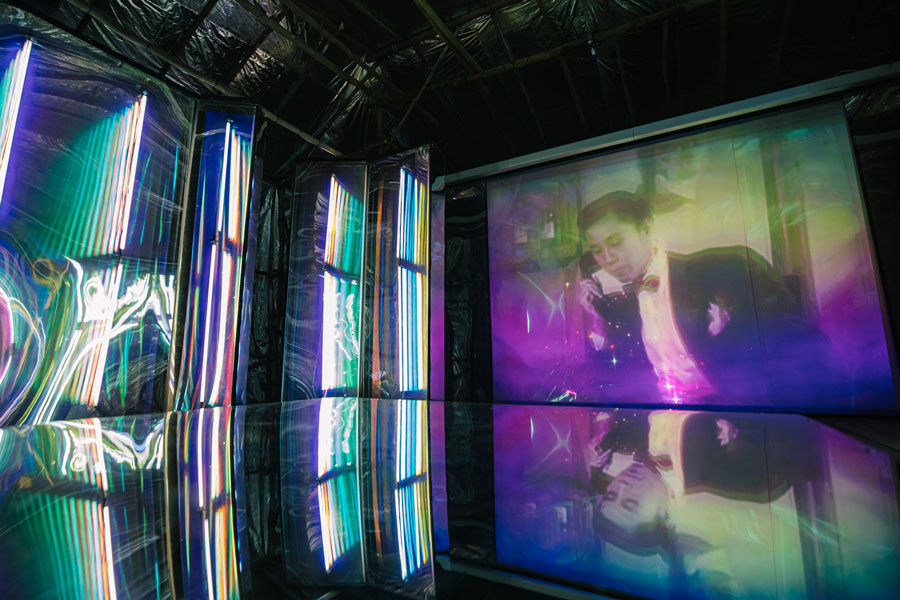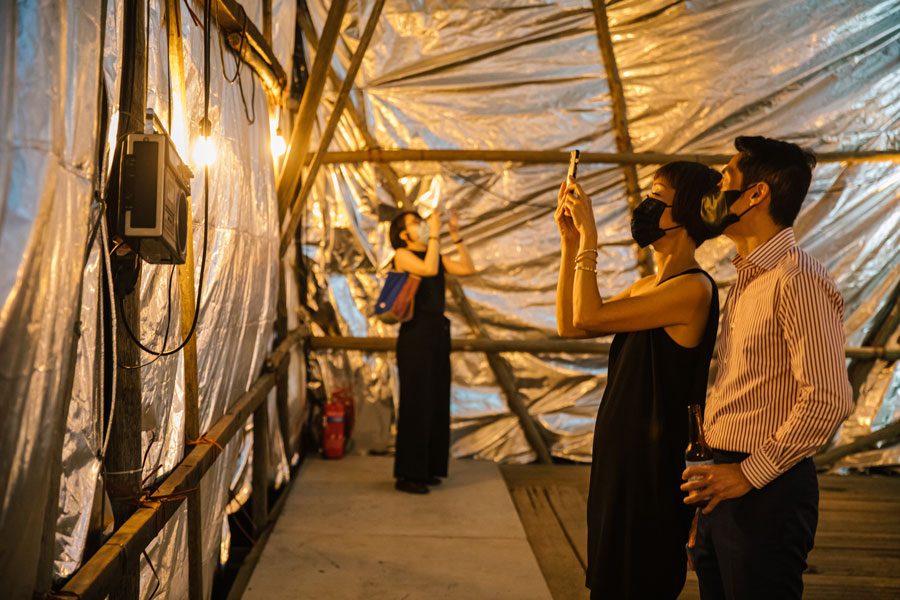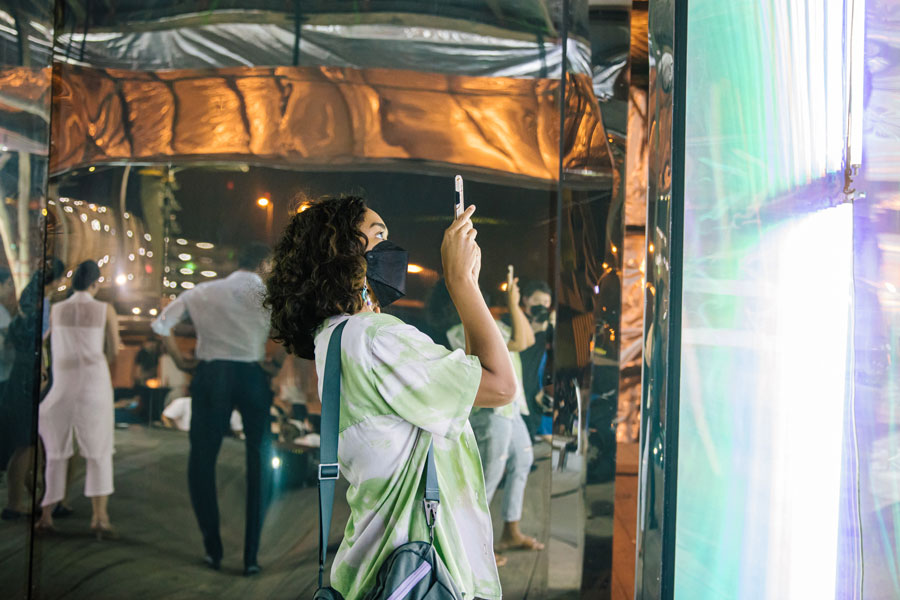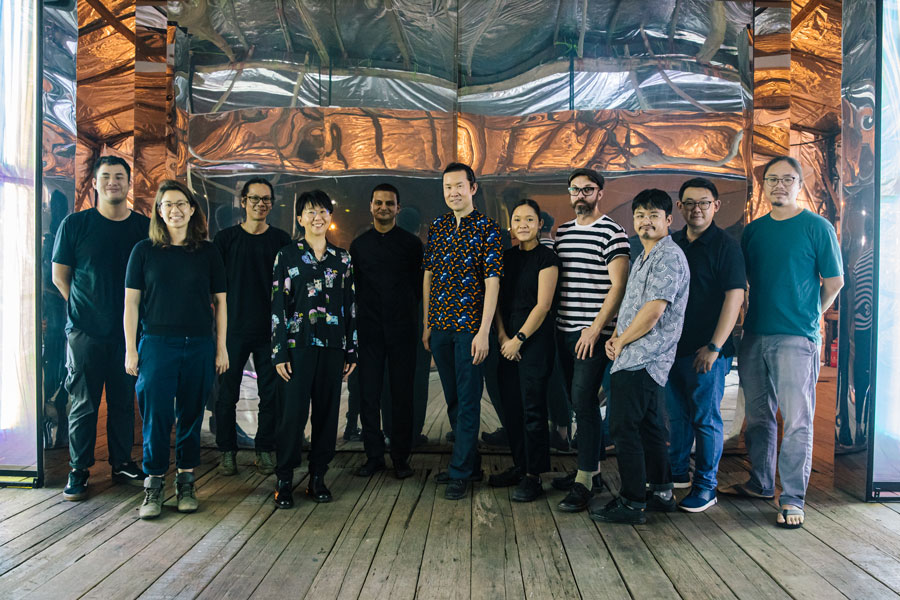 The world of cinema is Ming Wong's gateway to imagination. In many of his works, he subverts the role of the actor in order to reveal how gender, race, nationality, language, body type and other categories are always a form of performance. Sometimes Wong plays all the roles himself—even learning different languages to do so. Wong has maintained a particular interest in Cantonese opera, having grown up with it in Singapore. Since 2012, he has investigated the modernisation of Cantonese opera in the 20th century, its cinematic transformations and unlikely relationship with the development of science fiction in the Chinese speaking world. Alongside Wayang Spaceship, other works that address this theme include Windows on The World (Parts 1 & 2) (2014), Blast off into the Sinosphere (2014), and Scenography for a Chinese Science Fiction Opera (2015).
The latter was a work that invited the public to walk through a full scale hand painted stage set of a hypothetical science-fiction themed Chinese opera inspired by cosmological motifs from Buddhist cave paintings and Eastern Bloc science fiction movies. Wong represented Singapore at the 53rd Venice Biennale in 2009 with his solo exhibition, Life of Imitation, which won a special mention. The Wayang Spaceship at the Singapore Art Museum will evolve over a two year period, and will feature a range of performances and access programmes. www.mingwong.org
Credits & Acknowledgement
Conception and Lead Artist:
Architecture and Design:
Randy Chan, ZARCH Collaboratives
Wayang Stage:
Lightboxes and Projection:
Video:
Sound:
Sound design consultant:
Technical Production:
Graphic Design:
Curatorial and Texts:
Shabbir Hussain Mustafa, Syaheedah Iskandar
Production Management: