Tini Aliman, Nuraliah Norasid, Nadya Zaheer, Elliott Ong and Qiyun Woo
Approx. 60–90min
Starting point: Spooner Road access to the Rail Corridor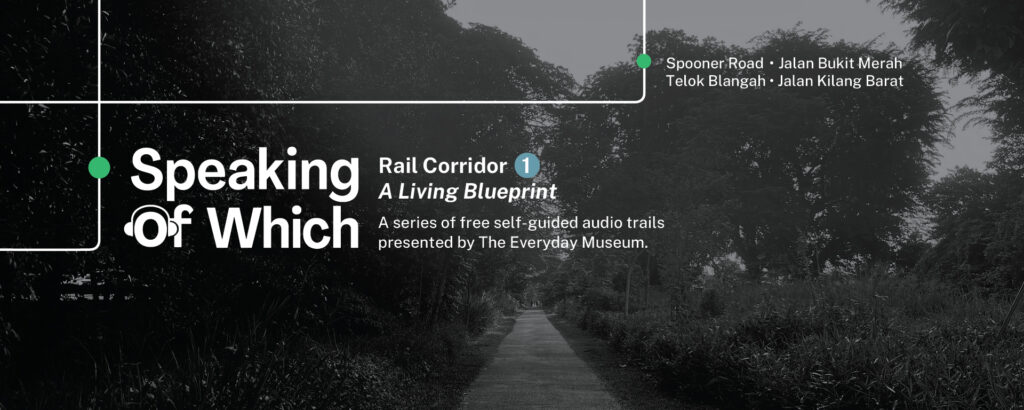 Explore the southern stretch of the iconic Rail Corridor and uncover stories of the many guests—both human and non-human—that the old railway line has played host to.   
Drawing from her interest in forest networks and plant consciousness, artist and sound designer Tini Aliman gives a voice to the swathe of wilderness which has silently observed diverse ways of life along the Rail Corridor through the use of field recordings and foley.  
You can also tune in to personal oral history recounts interwoven with speculative fictional texts by Nuraliah Norasid, narrated by Nadya Zaheer, as well as a podcast segment by wildlife conservationist and environmentalist Elliott Ong and Qiyun Woo as they converse with SAM curator Selene Yap.  
This self-guided audio trail marks the shifts and changes along the Rail Corridor in the areas adjacent to Spooner Road, Jalan Bukit Merah, Telok Blangah and Jalan Kilang Barat.  
Speaking of which is commissioned by The Everyday Museum in partnership with the National Archives of Singapore.  
To request for a transcript of the trail, please email [email protected] 
Your feedback is important to us. If you have embarked on the audio trail, please take a few minutes to fill up this form and let us know your thoughts.
https://forms.microsoft.com/r/xTMGsBT9yV
To experience Speaking of which trails, download Echoes on

Advisory
On this trail, you will need to cross roads, pass construction sites and walk uphill and downhill. Please be mindful of your surroundings.
Children aged 10 and below should be accompanied by an adult.
Disclaimer
The Singapore Art Museum is not liable for any injury, loss or damage that you may sustain from participating in this trail.
The views and opinions expressed by narrators in the audio trail do not necessarily represent the position of Singapore Art Museum.
Credits & Acknowledgments
A Living Blueprint features extracts from the oral history interviews of:
D J A Kumanayake (Accession number 000417, Reel/Disc 3 of 14)

K. Nadarajah (Accession number 003378, Reel/Disc 1 of 10)

Subaraj Rajathurai (Accession number 004236, Reel/Disc 2 and 10 of 10)

 
Composition and Sound Design:
Speculative Fictional Texts:
Written by Nuraliah Norasid
Narrated by Nadya Zaheer
Podcast
Elliott Ong
Qiyun Woo
Selene Yap
Production and Script:
Tini Aliman is a sound artist and designer, field recordist and audio engineer who works at the intersection of theatre and film sound design, live sound art performance, installation and collaborative projects. Her research interests include but are not limited to, forest networks, spatial acoustics, bio-music, botanical histories and the variables of data translations via biodata sonification. She has been involved in projects, performances and exhibitions presented at the National Gallery Singapore, NTU Centre for Contemporary Art, Biennale Urbana at Caserma Pepe, Venice, Singapore Art Museum and SFMOMA.
Nuraliah Norasid is a writer and educator with a penchant for research, spreadsheets and understanding how information is organised. She graduated from Nanyang Technological University (NTU) with a Doctor of Philosophy in English and Creative writing (2015). Her novel, The Gatekeeper, won the Epigram Books Fiction Prize in 2016 and the Best Fiction Title for the Singapore Book Awards in 2018. It was also shortlisted for the Singapore Literature Prize (2018). In that same year, Nuraliah received the Most Promising Young Women Writer from IndiaSe Magazine.
Her other writings, both fiction and non-fiction, have been published in magazines, journals and anthologies such as Mynah Magazine, Quarterly Literary Review Singapore (QLRS), and Perempuan: Muslim Women Speak Out.
Nadya Zaheer is a singer and actress who graduated with a BA (Hons) Musical Theatre degree from LASALLE College of the Arts. Her theatre credits include playing the titular role in Snow White and the Seven Dwarfs (Wild Rice), Three Years in the Life and Death of Land (The Necessary Stage), and The Paiseh Pieces (The Second Breakfast Company). If she is not performing, you will find her either creating art with Strawberries Inc. or Play! Collective, or writing her own music to release with Mosta Records. Nadya aspires to spread love, kindness and empathy through her work.
Instagram: @nadyazaheer
Elliott James Ong is a conservationist and nature guide who is passionate about people, nature and wildlife in Singapore and the wider Southeast Asian region. He enjoys sharing about the rich biodiversity that can be found here with everyday Singaporeans through photography and nature walks.
Instagram: @hiddenwilds
Qiyun Woo is an environmentalist and creative storyteller with a passion for communicating climate science through compelling visuals. Woo is best known for her work with The Weird and Wild, an Instagram page that produces accessible environmental content to advocate, educate, and engage communities on climate change. Woo holds a degree in environmental science from the National University of Singapore and works as a sustainability consultant. Her science communication work has been featured in mainstream publications (The Straits Times, L'Officiel, GRAZIA), exhibitions (with TheGreats.Co, Lendlease), and in collaborations with global brands (Mercedes-Benz, Casetify, Stojo, Decathlon, WWF).