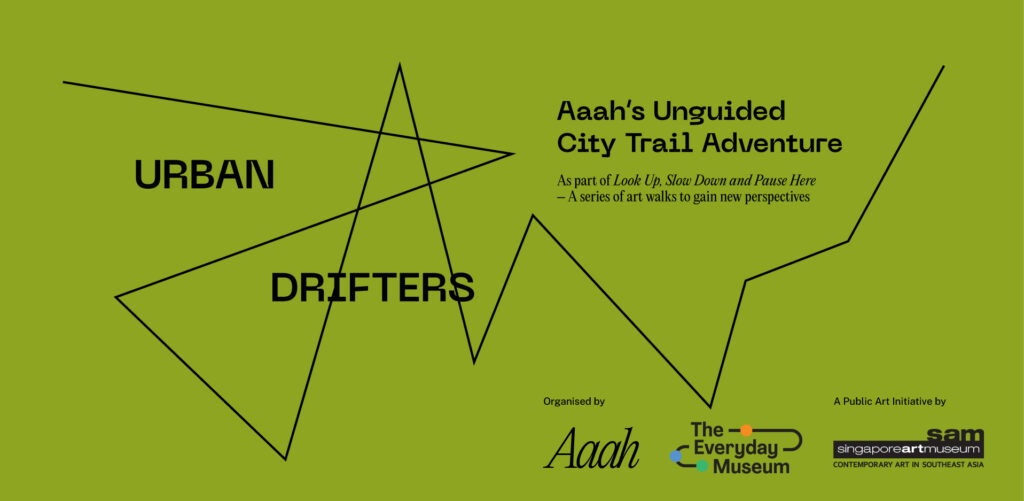 Sat and Sun, 16 and 17 Sep 2023
10am – 12pm
Meet at SAM at Tanjong Pagar Distripark
39 Keppel Road, Level 3 
Everybody follows the same route, yet each person is drawn to something different.
How can walking help us reconnect and rediscover our relationship with the city?
Inspired by the practices of dérive and psychogeography, this walking photography activity by Aaah Studio encourages you to embark on a spontaneous urban exploration, guided by fixed start and end points. Allow the urban currents to steer your course. As you stroll through the vibrant streets, your camera becomes your companion, capturing not only sights but also the essence of  the city's hidden stories. Find the beauty in the unnoticed, the charm in the overlooked, and the magic in the mundane. Each click of your camera freezes a moment that tells a tale. Join us on this urban expedition where photography meets exploration, unveiling hidden narratives and reimagining your relationship with the urban environment.
Please note the following important details:
Meeting Point:
Please meet at SAM at Tanjong Pagar Distripark, 39 Keppel Road, Level 3 for the start of the session.
Trail Guidelines:
As the exploration of the neighbourhood will be unguided, participants must be mindful of their surroundings. The trail will involve crossing roads, passing construction sites, and walking uphill and downhill.
Please dress comfortably for the session and bring along your mobile cameras. Participants are advised to pack light for this physical activity.
This programme will continue in the event of light rain. In the event of bad weather, please look out for updates on possible postponement via Peatix Messenger. You may also contact us through Peatix Messenger or The Everyday Museum's Instagram, if you have any enquiries on the day of the event.
Disclaimer
By attending this session, you consent that Singapore Art Museum and Aaah Studio will not be liable for any injury, loss or damage that you may sustain from your participation.
Ticketing Matters
Registration begins 15 minutes before the start of the session. Please arrive early as latecomers may miss the trail.
Photography
Please note that there may be photography at the event. By attending, you consent to your photograph being used for future communications both online and offline by SAM and Aaah Studio for archival, publicity and publications only.
Aaah is a nomadic creative practice and experimental concept that offers creative services, and curates design objects and experiences focused on raising the value of creativity for everyday life. Their works traverse between the realms of art, design and strategy, where pleasures carry no guilt and ideas are not talked down to.
https://aaah.studio/