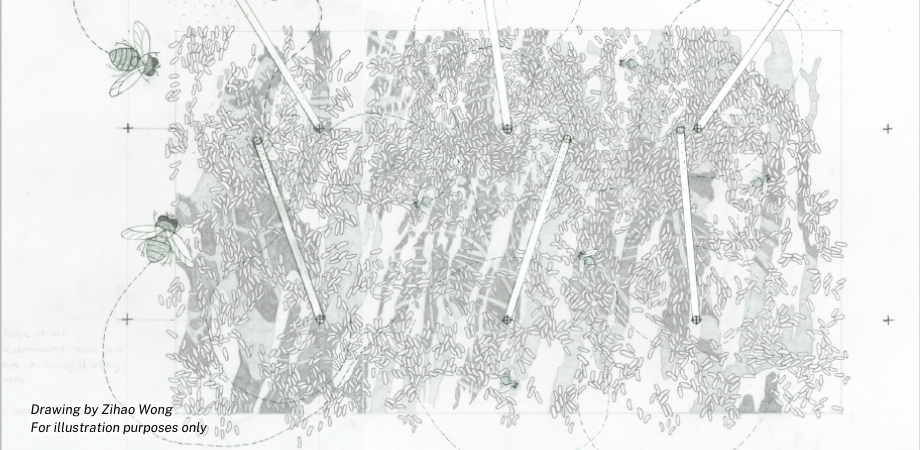 1. Drawing the Urban Coast
For the nature-lovers
Sat, 30 Sep 2023, 10-11.30am
Meet at Duxton Plain Park, Yan Kit Road entrance
Slow down with drawing-researcher Zihao and trace Tanjong Pagar's historic sandy shores. Envision an alternate neighbourhood, where the sharp urban lines of the port terminal and highways merging into the towering cityscape allow us to uncover the many shifts and bygone connections this coastal place shared with the sea and its wild natures. Through the contemplative art of drawing and crafting imaginative maps, wander out from the city centre in search of the edges where urban meets nature. What other coastlines might we stumble on upon closer look at the ground beneath us, when we pause and pay attention to what is often overlooked?
2. Drawing with Nature's Time
For the urban-islanders
Sun, 1 Oct 2023, 10-11.30am
Meet at 55A Commonwealth Drive
Take a contemplative walk with drawing-researcher Zihao along the Rail Corridor as we cast a discerning gaze upon the terrain and its changes. Uncover the essence of time and its interplay with the surroundings as we trace the remnants of the railway's historical imprints within the natural landscape. Pause to draw, and draw to re-ground our urban selves, through textural maps and re-notice the unusual edges where urban and wild nature coincide and co-exist.
Trail Guidelines
Both sessions are recommended for ages 13 and above. Participants aged 12 and below must be accompanied by an adult.
Please dress comfortably and wear covered walking shoes for this programme.
Please bring along a sketchbook and drawing materials of choice, a water bottle, raincoat or umbrella in case of rain, and mosquito repellent.
This drawing walk will continue in the event of light rain. In the event of bad weather, please look out for updates on Peatix Messenger. You may also contact us through Peatix Messenger or The Everyday Museum's Instagram, if you have any enquiries on the day of the event.
Disclaimer
By attending this session, you consent that Singapore Art Museum and Zihao Wong will not be liable for any injury, loss or damage that you may sustain from your participation.
Ticketing Matters
Registration begins 15 minutes before the start of the session. Please arrive early as latecomers may miss the trail.
Photography
Please note that there may be photography at the event. By attending, you consent to your photograph being used for future communications both online and offline by SAM for archival, publicity and publications only.
Zihao Wong (PhD by Design, National University of Singapore) is an architectural designer, researcher and educator, operating from Singapore-based architecture + design practice Studio Super Safari, which he co-founded in 2014. In 2023, he received his PhD in Architecture at the National University of Singapore, upon completing his doctoral research thesis Reassembling the Intertidal, which utilises creative modes of drawing and storytelling to thikn about constructed notions and meanings of 'ground', through the at-risk landscape of an intertidal coast in Singapore. Drawing and storytelling with this coast ground, Zihao probes what might change for the roles of architecture and design in our environmently futures. Previously, his design-led enquiry Embodied Cartographies: Drawing Encounters of an Ephemeral Landscape was shown at the NUS Museum's Prep-room Exhibition Intimate Landscapes. Zihao also teaches in an adjunct capacity at NUS' Department of Architecture, and formerly at Temasek Polytechnic's Design School.