Sat, 17 June 2023
Part 1
11.30am (Kampong Bahru Bus Terminal, 11A Spooner Road)


Part 2
2pm (Meet at 55A Commonwealth Drive)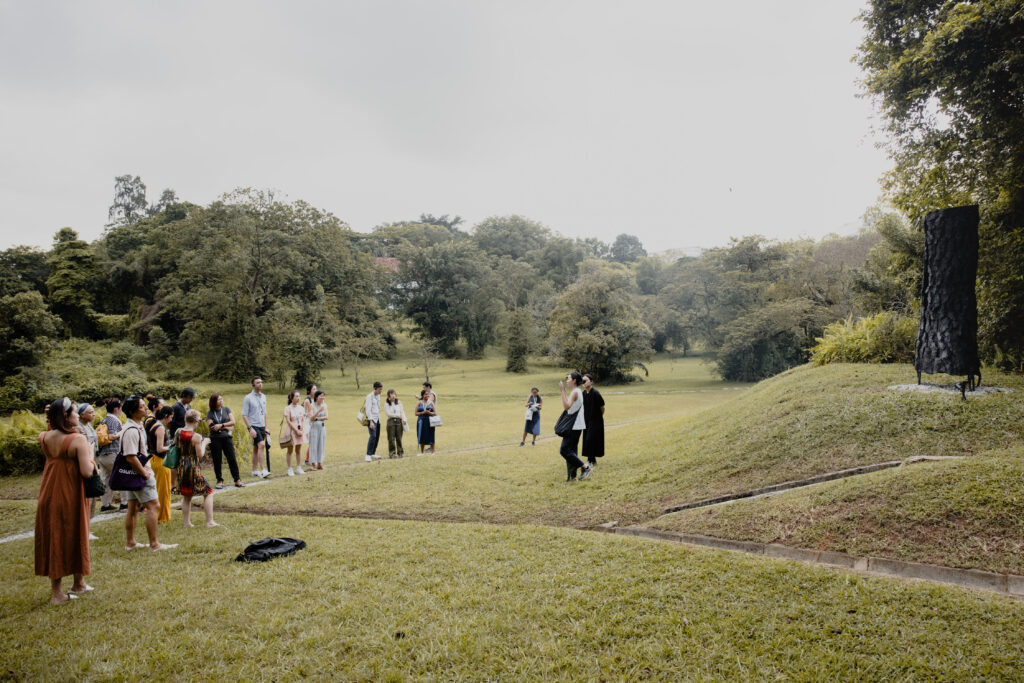 On 29 April 2023, SAM launched the public art trail Singapore Deviation: Wander with Art through the Rail Corridor under the public art initiative The Everyday Museum. The commissioning series explores the iconic Rail Corridor in Singapore through the works of three artists: Sookoon Ang, Hilmi Johandi, and Tan Pin Pin. Conceived as site-specific installations, each artist offers a unique entry point into the evolving uses of the site, from colonial railway to wildlife corridor and recreational trail.
Venture out with the Public Art team to encounter these public artworks as further insight is rendered into all the effort taken to bring these commissions to fruition. Learn about how public art provides the space for us to reflect on the way we view the world, and to spark curiosity, imagination and conversations in order to transform everyday experiences into memorable encounters.
Part 1 of the tour covers Tan Pin Pin's walk walk (Singapore Deviation version) at the Kampong Bahru Bus Terminal, comprising of a video and an installation to highlight the everyday act of walking as an extended idea of freedom of movement, and as a basic human expression. The tour will end with the 12pm screening of the video documentary installed at the Transitlink Office (Duration of video documentary: 27min 13s).
Part 2 of the tour covers Hilmi Johandi's Stagecraft: Landscaped Grounds at the Rail Corridor access from 55A Commonwealth Drive and Sookoon Ang's Moonlight at the open field behind 2 Wilton Close. The tour includes a 15-minute walk along the Rail Corridor between both artworks.
Important Notes
Separate registration is required to attend parts 1 and 2 of this tour.
This guided tour is recommended for all ages. Participants aged 12 and below should be accompanied by an adult.
On this tour, you will need to cross roads, pass construction sites and walk uphill and downhill. Please always be mindful of your surroundings. Singapore Art Museum will not be liable for any injury, loss or damage that you may sustain from participating in this tour.
Please dress comfortably and bring along a water bottle, raincoat or umbrella for this tour. The tour will continue in the event of light rain. Please look out for live updates via Peatix Messenger and The Everyday Museum's Instagram. Contact us through these channels if you have any enquiries on the day of the event.
Please arrive early for the registration of the session. We regret to inform that latecomers may miss out on the tour as we will move as one group and there will be no representative at the registration point once the tour commences.